The Horror of the Mundane
This is something which I've been thinking about for a while now, and listening to the great Ramsay Campbell speak on the Best Seller Podcast recently brought it back to mind, so I thought I'd be a mind-splurge here.
When asked his tips for budding horror writers Ramsay said to write what made you scared, not what you think the reader would find scary. Makes sense.  As the saying goes, 'no tears in the writer, no tears in the reader'. And he also name-checked Adam Nevill a few times on writers who manage to scare him now.
I've spoken about my love of Nevill's work before, and he remains one of the authors whose books I preorder without waiting for reviews because I know they're going to be good (not disappointed yet). What hits me most about his writing is how he manages to maintain tension throughout a novel, and his visceral prose (I read the second half of The Ritual with one hand clamped to the side of my head in sympathy with me main character).
But what I've been thining about most recently is his novel No One Gets Out Alive.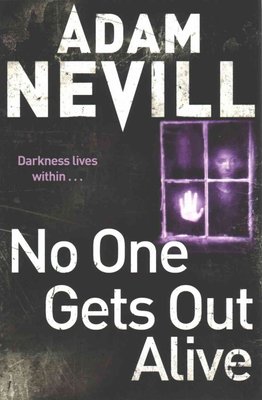 NOGOA – to be short – nearly defeated me. I won't go too much into the story as you really should read it, but the supernatural elements of the horror take a while to kick to in, which is fine. A writer as talented as Nevill knows the benefits of a maturing tension. But in this case it allowed a sceondary horror to creep in – that of the poverty trap.
And that's what stopped me reading. I've been there, of living hand to mouth and that despair of seeing no way out, and Nevill portrayed it perfectly. I don't know if he intended it that way and one day In intend to ask him, but it was so close to the mark of one of my very real fears that when the regular horror kicks in and people started dying that it was actually a relief.
And that's what sticks out to me for this book. Nevill tapped into a very real fear of mine, and for a while it made me put the book down and walk away, because it was just that much too close to the mark. And at teh end of the day, it was far more frightening then an kind of supernatural haunting, and by a long margin.
I've tried to include that in my own writing. In Grind, my story in Fox Spirit's Pacific Monsters, my horror wasn't being trapped on a barren island by a half-seen ocean creature. It was that the humans there could let the tension break them in npredictable ways, it was that the main character may never see his child again.
We all see the monsters in our mind differently, but we all understand the terror of being separated from our children.
Anyway, now I've managed to frighten myself all over again, I'm off. Toodles.
Michael